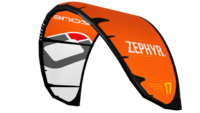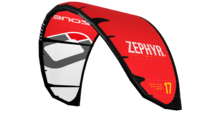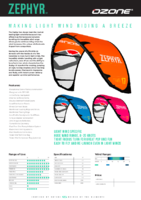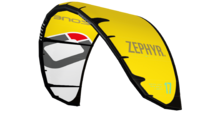 OZONE
Ozone Zephyr V7(Kite only)
Making light wind riding a breeze.
The Zephyr has always been the market leading light wind kite because it has efficient performance and dynamic handling. It's incredible wind range allows you to continue riding when the wind increases, this unique attribute sets it apart from competitors.
Having the power of a 17m kite on demand with the feedback of a 13m translates to more fun in light winds. The incredibly nimble handling with a tight radius turn, ease of use and the ability to have fun in low winds characterises the Zephyr. It is perfect for cruising, jumping, air style, honing strapless airs or learning handle passes. The boost is impressive and floaty, with instant power delivery and superior up-wind performance.
Features
Exceptional Ozone Factory construction • Designed with OZ-CAD
• 4-line Pulley-less System
• Internal reinforcements

• Double Stitched Folded Seams
• Load Distribution Panels
• Direct Connect Struts
• Reinforced Leading Edge and Struts • Reinforced Trailing Edge

• Low Profile Aerodynamic Scuff Pads • Unique bladder construction
• Anti-Snag Line Deflectors
• Tuned Bridle Geometry

• Fast Flow One-Pump Inflation System • Back-line trimming options
• Fool Proof Line Connectors
• Water Kite Technical Bag

• Water Kite Compressor Bag (optional)

Recommend: Ozone 55cm Clickbar V4

Compatible: Ozone 55cm Clickbar V4